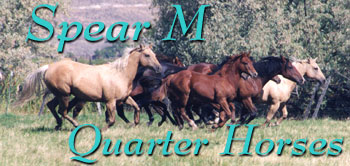 Marchek Ranches, Inc.
Home of


Spear M Quarter Horses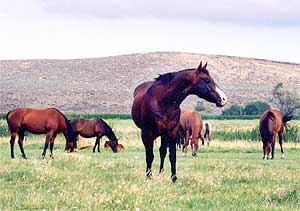 Mucho Leo Bar, sire of many Spear M horses,
pictured here with his brood mare band.


It isn't unusual for a cattle ranch to have horses around, but the horses at Marchek Ranches aren't just average ranch horses. Spear M Quarter Horses come from the bloodlines of such Quarter Horse legends as LEO, KING, and DRIFTWOOD and are the product of a breeding program that has been practiced for over 40 years. Looking over a band of Spear M Quarter Horses, you'll see horses that epitomize the Foundation Quarter Horse. These animals have strong, sturdy, well balanced bodies, and intelligent, trainable minds.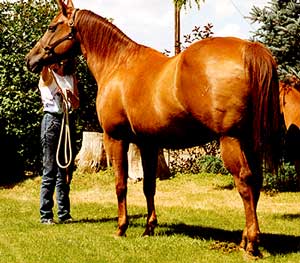 Skimpa Scamp a gorgeous Spear M brood mare.


Producing horses of this quality isn't easy, and it can't be done through good bloodlines alone. Spear M horses are raised out in the open, where their bodies and minds are challenged, and they can band together in small herds for the social structure they instinctively crave. While this is the best environment for the horses, it does create more work for the handlers. After all, we aren't trying to raise wild horses, so special steps must be taken along the way. Newborns are handled as soon as possible to provide a human imprint, and regular contact keeps the bonds intact. This way, when it's time to train a Spear M horse, the process starts with a calm, gentle animal that isn't afraid and is willing to learn.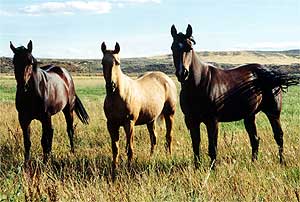 So whether your experience with horses is new, or you were raised in a saddle, you'll be impressed with the Spear M Quarter Horse. There are a few for sale and stud services are available, so call to arrange a visit to the ranch and find your next legendary Quarter Horse.
For More Information Contact:
The Marcheks
Harper, Oregon
541-358-4677

Site design by 1010 IT Services, Inc
Copyright © 2016, All rights reserved